Tap Into What's
Possible For Your
Home & Your Life
Conquer clutter with an online learning program that
eliminates stress and puts you back in control.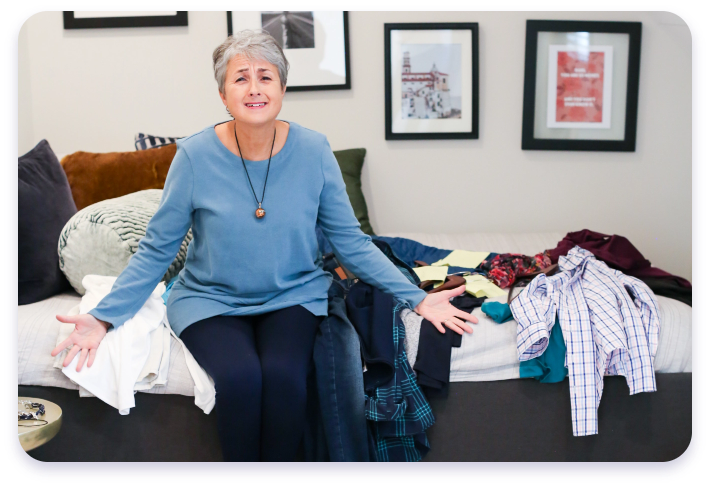 Holding on is the fear of letting go.
Other home organization systems fail to address the psychological stressors and emotional attachments we form with our "stuff."

Emotional clarity leads to change that sticks.

The Tidy Tapper Method integrates a mind/body tool that clears your emotional "clutter." This makes way for the clarity you need to take action- and create permanent change.
A Simple Organization System that Suits You
Learn the basics of the Tidy Tapper Method with our video guide for just $97!
11 Video Modules
Our short video tutorials clearly guide you through each step of the system. In just ten minutes or less, Bettina provides you with the techniques needed to free yourself from clutter.
9 Worksheets
Each lesson comes complete with a printable handout to deepen your Tidy Tapping practice and provide a tangible tool for the future.
Access to Our Club
Get one free month of unlimited access to the Tidy Tapper paid community. With weekly group coaching sessions and access to exclusive content, you'll be on your way to creating a life free from clutter!
It's not always a simple decision
to "keep, toss, or, donate."
No one wants to live in a home filled with clutter. But sorting through your stuff, deciding what to keep and what to toss can be overwhelming. You might feel guilty about getting rid of heirlooms or gifts you don't love, or you might worry about throwing away tools or supplies you paid a lot for but never use.

At Tidy Tapper, we understand how you feel. That's why we created a simple system to help you let go of the things that make your home feel cluttered and make space for the things that bring you joy.
"My clutter was a constant source of anxiety weighing on me. I didn't have the heart or skills to get rid of any of these memories/items. By following the Tidy Tapper 3 step simple system, I was able to organize my home so that now makes a wonderful airbnb."
"This program helped me learn how to move through the piles of clutter one step at a time. I now have a system and tools to keep clutter at bay. I love the lightness and calm that comes to me when I go into those 'cleaned up' rooms!"
"I have made such great progress with Bettina's guidance! Her philosophy is realistic and kind. I've learned a simple system so I no longer spend time spinning in circles and I now know what to do when I feel stuck. My house is looking great and I'm really happy!"