Enjoy Your Life
In A Tidy Home.
Make home organizing easy with the Tidy Tapper Method.
Is clutter crowding out your calm?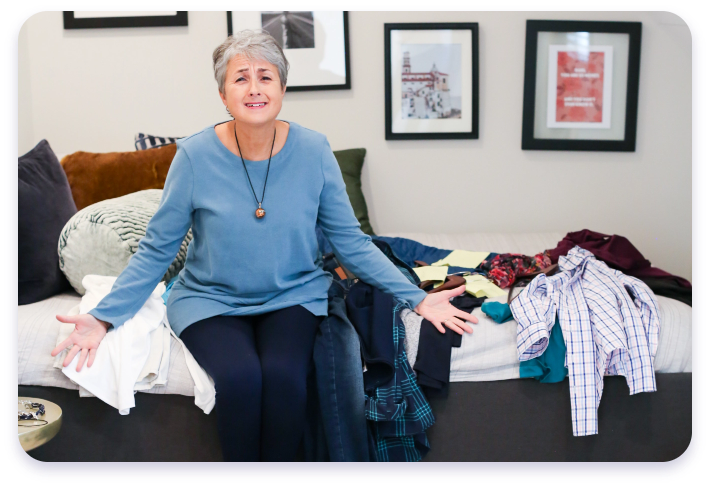 Are You
Afraid to let go of things because you might need them someday?

Overwhelmed by unwanted gifts and heirlooms you don't love taking up space in your house?

Struggling to let go of tools, supplies, or equipment you don't use?
The things you don't use or love are the cause of your clutter.
Make Your Home The Place You Love
Reduce Stress
& Overwhelm
Using the Tidy Tapper Method will help you make intentional decisions about your belongings and relieve the anxiety and stress you experience when decluttering your space.
Release
the Clutter
The Tidy Tapper Method integrates the Emotional Freedom Technique, or "tapping" to help you release your attachment to clutter.
Relax in a
Home You Love
Gain control over your space and create a home you love to live in. Our three-step, simple system gives you the tools you need to organize your space and discover clarity and peace of mind.
It's not always a simple decision to "keep, toss, or, donate."
No one wants to live in a home filled with clutter. But sorting through your stuff, deciding what to keep and what to toss can be overwhelming. You might feel guilty about getting rid of heirlooms or gifts you don't love, or you might worry about throwing away tools or supplies you paid a lot for but never use.

At Tidy Tapper, we understand how you feel. That's why we created a simple system to help you let go of the things that make your home feel cluttered and make space for the things that bring you joy.
"My clutter was a constant source of anxiety weighing on me. I didn't have the heart or skills to get rid of any of these memories/items. By following the Tidy Tapper 3 step simple system, I was able to organize my home so that now makes a wonderful airbnb."
"This program helped me learn how to move through the piles of clutter one step at a time. I now have a system and tools to keep clutter at bay. I love the lightness and calm that comes to me when I go into those 'cleaned up' rooms!"
"I have made such great progress with Bettina's guidance! Her philosophy is realistic and kind. I've learned a simple system so I no longer spend time spinning in circles and I now know what to do when I feel stuck. My house is looking great and I'm really happy!"